Before your virtual appliance repair appointment, here are the tools and preparation you must take. Most of these tools can be found in the toolbox or a regular household. If not, they can be purchased easily and cheaply in places such as Amazon.com, Home Depo, or Lows. Those tools are a must-have if you want to do your own DIY appliance repair. Sometimes a more specific tool is necessary. Please give us a thorough description of our problem and give us accurate information about your appliance—for example, model number, series number, and serial number. We will research your appliance and tell you before the appointment what tools you will need. If we did not contact you, then those tools listed below are all that is necessary. Make sure you have all of the tools listed here.
1. Screwdrivers:
For any appliance repair job, you will need a least a couple of screwdrivers. Make sure you have both flat-head and Phillips screwdriver at hand. Also, it's important to have several bit sizes. The most inexpensive and versatile option is a screwdriver with interchangeable bits.
2. Flash Light:
Often when you go into your appliance to look at parts, you will find the space quite dark. That is why a good flashlight is always necessary. The best flashlight is not very big, but it is bright. It should have some magnet or clamp-on end. This way, you can connect them to something, and your hands will be free.
3. Masking Tape and a Pen or Permanent Marker:
Masking tape is another vital part of any do-it-yourself appliance repair. It is used to hold things together temporarily or to label parts. As you are taking your appliances apart, you should always mark each item and even take photos. Use your pen or permanent marker to write on your masking tape or take notes. The goal is to be able to put everything back together in the right way.
4. Adjustable Open-end Wrench:
The adjustable open-end wrench is handy for any repair work. It adjusts to accommodate different sizes of nuts and bolts. You will very likely be unscrewing and screwing back up a lot of them, so make sure to have one in your toolbox. We will be using it for sure during our virtual appliance repair appointment. This is an essential part of the tools and preparation for appointments.
5. Work Gloves:
Work gloves are necessary for your protection. Our appliance repair technicians wear them to every job, no matter how small. Even the most simple jobs can turn into injury without the use of good hand protection. During appliance repair, you often come in contact with sharp parts and hot surfaces. So, we urge you to have those during our appointment.
6. Safety Goggles or Glasses:
When you work with home appliances, you need your eyes protected at all times. That is why we suggest your use of eye protection in the form of safety goggles or glasses. You never know what could be hiding in harmless parts. Particles or chemicals can come out and do damage to your eyes before you know it. This is another item that every appliance repair specialist makes sure to have available. For do-it-yourself tools, and preparation, you have to have safety goggles or glasses.
7. Multi (Voltage) Meter:
A multimeter might be the most expensive item on the list. It could cost you anywhere from $10 to $20 at any home improvement store. We suggest you buy it before your appointment. It's more likely than not that we are going to use it. The multimeter measures the power of the current going through the vires connected to your appliance. It indicates if electricity is present or not. You will need it if any review is involved. But in case it is not sued during our appointment, do not open the box until our tech tells you to. This way, you can return it to the store if unused.
8. Rags and Towels:
You can use rags and towels for clean-up after and during your virtual appliance repair appointment. It can be quite messy at times. You can also use it as placemats for your small parts and tools. We recommend you get some before the appointment.
9. Thread-Sealing Tape:
The thread-sealing tape is used a lot during appliance repair. It looks like thin white tape, and it is used for threaded pipe fittings in appliances. Basically, this takes stops pipes from having leaks. Having one on hand is very useful for any do-it-yourselfer.
10. Clamp Meter:
A clamp meter is used to check currents in the electrical system. You don't even have to disconnect to check. It costs about $15 to $20 at most home improvement stores or on Amazon. You have to make sure you have batteries for your clamp meter. We are very likely to use this during the repair, but you can return it to the store if we do not use it. So, please do not open up the box until our appliance repair technician tells you to.
11. Pliers:
You will need three types of liers: Needle-nose Pliers, Slip Joint Pliers, and Channel-lock Pliers. Try to get them all before your appointment. They will make your job much, much easier.
Needle-nose Pliers are used for bending and cutting wires as well as for working on small pieces. They are very valuable in any appliance repair job, so we recommend you purchase them.
Slip Joint Pliers can help you easily release hose clamps.
Channel-lock Pliers can help loosen water hose fittings on washers and dishwashers.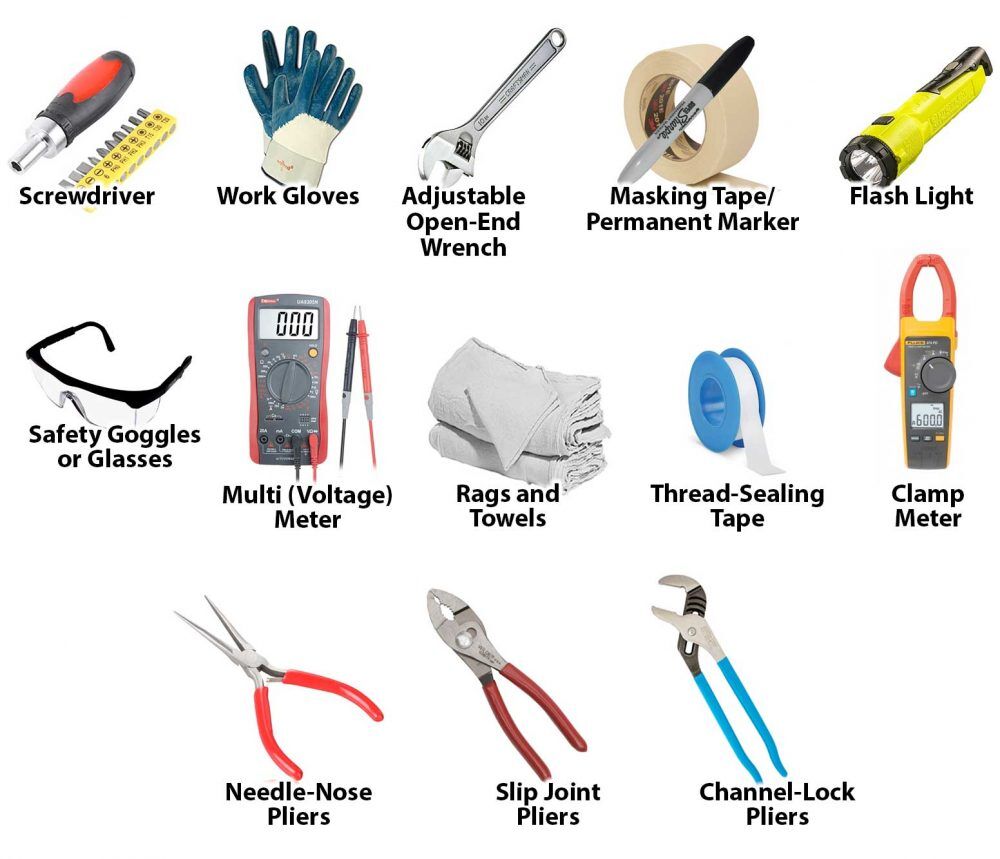 Find Your Model Number:
Besides getting tools and preparation, you will also need to make sure to find the model number of your appliance. You can find the info on how to find this here.
Book Your Virtual Appliance Repair Appointment:
Make sure to make your virtual appliance repair appointment with us or give us a call at 800-434-6313. We will be happy to hear from you, and we will give you advice on getting ready for your appointment.