Virtual appliance repair is a pretty new concept and this FAQ will be able to answer most of your questions.
What Virtual Appliance Repair And How Does It Work?
Virtual appliance repair helps customers fix their own home and kitchen appliances. We do this by connecting you with our appliance repair expert and letting him help you out. This is done over a chat or video call. Our appliance repair tech will walk you step by step through the repair. He will guide you and make sure your appliance is working perfectly. You can learn more about our virtual repair processes on the How It Works Page.
How Much Does It Cost?
The initial Diagnostics Appointment costs only $49.99. Additional appointment for part installation is called Installation Appointment and cost $65. You can learn more about our pricing on our Price Page.
Where Do I Start?
You start by filling out our comprehensive online form. Through this form, you can book an appointment with us. By filling out this form you are giving us as much as possible info about your appliance. This way we are ready and prepared. The form has a booking calendar and you can pick the date and time that is most convenient for you.
Next step, you go over our Tools and Preparation List. On the day of the appointment, we will send you a link so that you can connect with us. Our online appliance repair man will be able to guide you through the process of diagnosing and fixing your appliance.
If the parts will need to be ordered, we will help you with this process as well. Once you get the parts you can make another appointment with us, and we will walk you through installation. We will make sure that your broken appliance is working properly and is safe to use.
What to Expect From A Virtual Appliance Repair Appointment?
Your appliance repair appointment will last anywhere from 15 to 50 minutes depending on the problem. You can expect that your broken appliance will be fixed and in good working condition. If we are unable to help you, you will get your money back.
How Long Will it Take to Fix My Home Appliance?
It really depends on what kind of problem you have. It could take only one appointment with us that usually lasts 30 minutes to an hour. Or it could take several appointments, and you will have to order parts (with our help) and wait for them to arrive.
What Kind of Appointments Do We Offer?
We offer two kinds of appointments, depending on your need. One is called Repair Appointment, and the other is called Installation Appointment.
Diagnostics Appointment:
This is an initial appointment. It involves diagnoses as well as repair. Usually, if it's a simple problem, all you need is one appointment. During this appointment, we will take a look at your appliance, help you to take it apart and put it back together, and of course solve the problem.
Installation Appointment:
Sometimes during the Diagnostics Appointment, we see that your appliance will need parts replaced. We will help you order those parts, and you can book a second appointment with us called Installation Appointment. After you get the part, we once again connect with you and help you install the parts, test your appliance, and make sure everything is safely set up and working.
Can I Just Start With an Installation Appointment?
If you are sure about what part you need to install, then you are more than welcome to start with an Installation Appointment right away.
What If Your Company Cannot Fix My Appliance?
If our company can not fix your appliance, you will get a full refund. Total customer satisfaction is guaranteed.
What Appliances Home Appliances We Specialize In?
We specialize in Dishwashers, Dryers, Freezers, Microwaves, Ovens, Refrigerators, Stoves, Ranges, Washers, and more.
What Can You Help With Appliance Repair?
We can help any owner of the kitchen or laundry appliance as well as appliance repair. For example, we can offer our services to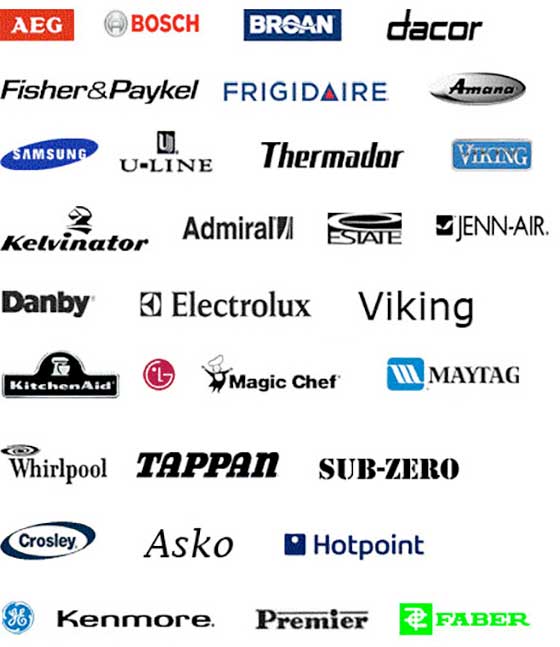 What Kind Brands and Models Do You Repair?
Virtual Appliance Repair works with all the brands of models of appliances. Including high-end appliances and European brands. Here is just a shortlist of all the different brands that we are certified to fix: Asko, Bertazonni, Bosch, Dacor, DCS, Electrolux, Fisher&Paykel, Frigidaire, GE, Jenn-Air, KitchenAid, La Cornue, LG, Liebherr, Marvel, Miele, Perlick, Samsung, Siemens, Sub-Zero, Thermador, Traulsen, True, Viking, Whirlpool, Wolf and many more.
What Are the Safty Precautions I Should Take?
We have a safety checklist that we go through with our customers before the appointment. Our team takes safety very seriously and will make sure you are as protected as can be.
What If My Appliance is Under Warranty?
We do not work with appliances under warranty. You need to call the company that has the warranty and work with their repairmen.