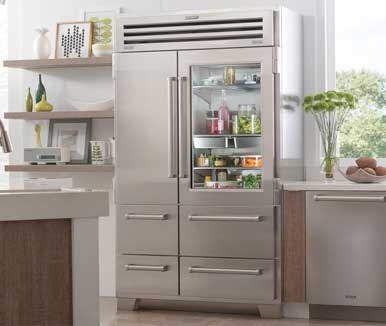 Our company performs professional virtual refrigerator repair services. When your refrigerator breaks, you can call appliance repair service and pay them upwards of $500, or you can repair your refrigerator yourself with our help. For our online refrigerator repair, we charge you only $49.99 for virtual refrigerator repair over the phone or video app.
All you have to do is book an appointment with us through our online form, and we will contact you. You will save time and money and get the same results as you would from a more expensive appliance repair service. Customer satisfaction is guaranteed or your money back.
Any average person with minimal technical skills can repair their own appliances as long as they are getting help from a professional. Online appliance repair is the thing of the future. Doing it over the phone or video chat is easy and convenient. You do not have to let a stranger into your house. You do not have to wait for hours for them. All you need is a set of basic tools and a good wifi connection. Our experienced technicians will walk you step by step through the whole process.
What To Expect From Your Virtual Appliance Repair Appointment?
Here is how it works. First of all, you need to give us as much information about your refrigerator as possible. We will need your refrigerator's Model Number and all the other useful details. Once you got all this info, please fill out our online form and book an appointment through it. Get all of your tools and prep ready. We will contact you at the time of the appointment through your SMS. We will send you a link that you can click and connect with us via video phone call.
Our technician will examine your broken refrigerator with your help. He will instruct you on what to do step by step. Usually, appointments last about half an hour or a little more. Sometimes new parts will be required. In that case, our tech will send links with exact instructions on how and where to buy the best parts and the best price.
If new parts are required, you have to wait until you receive your parts. Once you received them, you can go and fill out our installation appointment form. A second appointment is booked at the time most convenient for you. Once again, we will send you a link and make sure you can install your part correctly. Online refrigerator repair will give you great results at a very reasonable price.
Refrigerator Repair Prep and Tools:
You do not need any special technical skills to do a DIY refrigerator repair. Anyone can do it. So, why would you need help when you have a broken refrigerator? You need help from a professional because modern refrigerators can be quite complex. Also, it would be best if you had some basic tools and preparation before your appointment. The tools are usually quite basic and can be found in any homeowner's toolbox. You will need a screwdriver, flashlight, masking tape, pen and paper, adjustable open-end wrench, work gloves, safety goggles, multi (voltage) meter, rags and towels, thread-sealing tape, clamp meter, and pliers. You can read more about it here.
Refrigerator and Freezer prep work is quite important. You have to make sure that your refrigerator or freezer has been plugged in for at least 24 hours before the appointment. Even if it is not working, it must be plugged in. If your refrigerator is not cooling, you will need to get a special thermometer and put it inside. You can learn everything about refrigerator and freezer preparations here.
Why Choose Us:
Virtual Appliance Repair has helped our clients do DIY home appliance repair for many years. We can help you with any brand or model of kitchen or laundry appliance. Our team is factory-trained and certified to do refrigerator repair, washer repair, dryer repair, dishwasher repair, stove and range, oven repair, steam oven repair, microwave repair, freezer repair, ice maker repair, BBQ repair, pizza oven repair, patio heater repair and much more. No matter how complicated the issue might be, with our step by step help, you will be able to repair your home appliance. We will be happy to help you with your broken refrigerator or any other issues. We make sure you are more than satisfied with our service.
Excellent Value on Refrigerator Repair:
On average, kitchen appliance repair done by a repairman in your house costs $500 to $1000. But why ask a professional to come to your house when you can connect with him over the phone and do the job yourself for a fraction of the cost? This is called online refrigerator repair. Our technicians know how to work with you over the phone, and they know exactly how to any appliance in your kitchen. Our advice and directions will make any DIY refrigerator repair project easy and enjoyable, and you can even learn something new.
Great Customer Service:
Virtual Appliance Repair has the best customer service. When you contact us about your broken refrigerator, we will go out of our way to help you. Our techs are friendly and helpful, and most of all, know how to work with you remotely. They will go out of their way to make your experience as easy and as convenient as possible. They are here to help you! Our company is geared towards customer satisfaction, and our only goal is to get your appliance fixed fast. Most of all, we are very detail-oriented. We make sure that your appliance is not only working but is safe to use and runs well.
Our Online Refrigerator Repair Team:
Our team is factory-trained and certified to work on all brands of refrigerators. For example, Samsung, LG, KitchenAid, Whirlpool, Frigidaire, Frigidaire Gallery, Maytag, and many more. We are especially skilled in all European and high-end brand refrigerator repair. We are so sure that we can help you, that we offer our money-back guarantee to all of our customers.
Refrigerator Repair Issues:
Virtually any broken refrigerator can be repaired with our help over the phone or video chat. Here is just a shortlist of the issues we encounter most often when we do online refrigerator repair.
The refrigerator will not keep a low temperature.

The freezer will not keep low temperature.
The Refrigerator might be making strange noises.
The Refrigerator has torn door seal.
The Light bulb goes out.
The Significant frost buildup.
The Refrigerator is leaking water.
The Refrigerator will not turn on.
Contact Us:
For all of your do-it-yourself online refrigerator repair needs, you can contact us by filling out our online form and booking an appointment. Our service is easy and convenient. You will not be disappointed. In fact, you will learn more about your appliance and how to run it safely and efficiently. Our team is always ready to help you. If you have any questions, please read our FAQ or please call our number or 800-434-6313. Learn more about how to repair your own appliances in our Blog.