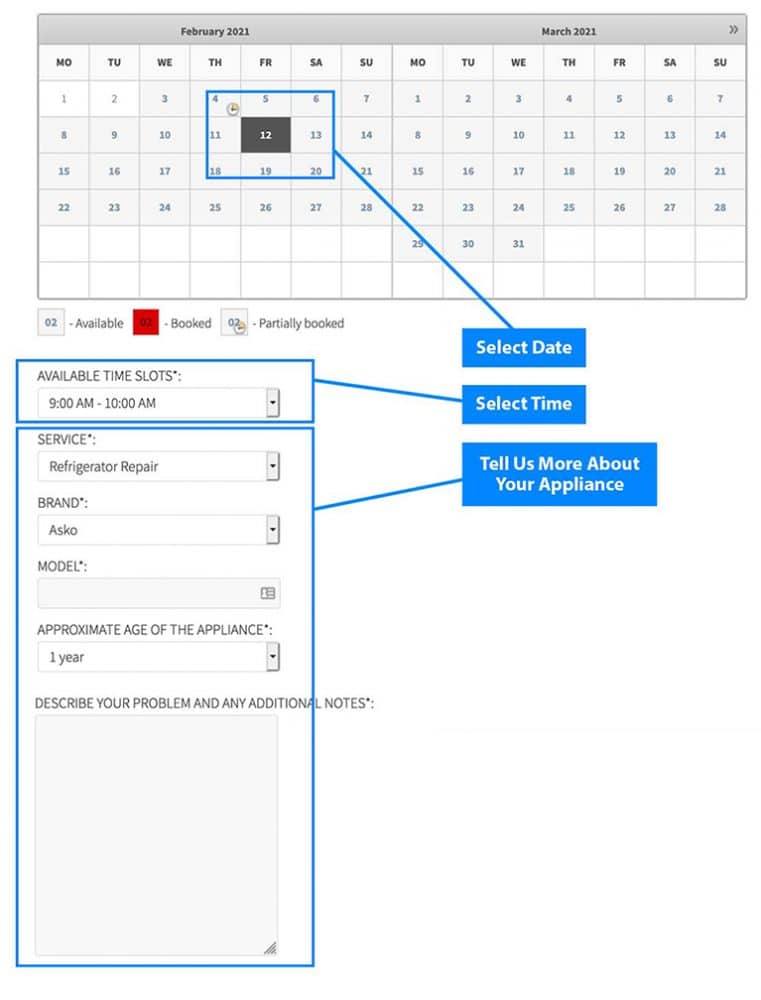 This is where you can learn how it works when you use a virtual appliance repair service.
1. To make an appointment click on the book an appointment link.
You will see a form with a calendar to select a date and a drop-down menu to select a time.
Also, you will see a place to give us as many details about your appliance as possible. For example, we will need to see your appliance model number. Learn more about how to find the model number of your appliance here.
2. After you sent us your form and paid your fee. You will receive an email with confirmation. (Make sure to white list info@virtualappliancerepair.com)
3. Next step is to get ready for your appointment. You will need to have some basic tools and make a few simple preparations. Learn more about how to prepare for online appliance repair here.
4. At the time of the appointment, we will send you a link to your SMS. Through this link, you will be able to connect with one of our appliance repair specialists. You will see him on your phone screen and show him what is going on with your appliance. You will also be able to share files and screenshots.
Our certified technician will identify the problem and guide you step by step towards a solution. If parts are needed to be ordered, we will order them for you. You will need to make an Installation Appointment. If you have any further questions about how it works please refer to FAQ or give us a call at 800-434-6313. Instant appliance repair at a reasonable price.