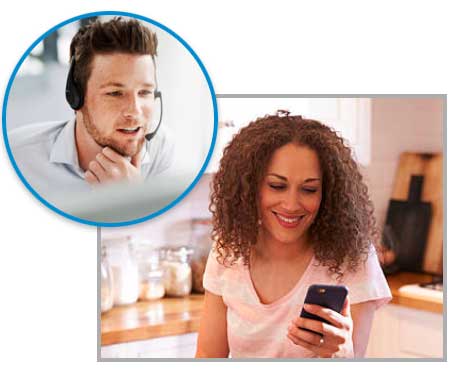 We are an online appliance repair company. That is a new concept, but it works great in the modern world. With the invention of smartphones and video chat apps such as zoom, we can easily connect with anyone on a planet. What if you need expert advice on something like appliance repair? This is where Virtual Appliance Repair comes in. You can easily connect with one of our home appliance repair experts for a small fee, and they will guide you through the process or repair step by step.
This on the alternative. On average, appliance repair costs anywhere from $400 to $800. You have to break your busy schedule and make sure to be home. You have to let a total stranger into your home. Often you will need to buy expensive parts and organize many appointments until finally your appliance is fixed. This is expensive and inconvenient. Online appliance repair is a much better and more convincing solution. Also, our prices are very reasonable. Check them out here.
Our company Virtual Appliance Repair will help with appliance troubleshooting, diagnostics, and repair. All you have to do is book a convenient appointment with us and make sure you are ready with all the tools and prep. You do not need any special skills or equipment. Most of the devices will probably be already available in your toolbox. A good WiFi connection and a smartphone will help you get expert, step-by-step advice. Satisfaction guaranteed or your money back.
Online Appliance Repair Service:
Our services include in them all aspects of home appliance repair, such as appliance troubleshooting, diagnostics, and repair. We also help you find and install parts for appliances. Here is what we do:
Virtual Appliance Troubleshooting:
Troubleshooting is one of the most important aspects of appliance repair, especially online appliance repair. Often a person can repair themselves quickly as soon as they know what the problem is. If you are a do-it-yourselfer, this is what we can help you with. Just make an appointment with us, and we will be able to see what you are seeing. Hold your phone camera to your appliance. Listen to our instruction and our appliance repairman will tell you what is going on. Often just a few tweaks in your appliance will fix it. But you need to know exactly what to do.
Virtual Appliance Diagnostics:
Online appliance repair lets you get diagnostics from a professional quickly. Just like virtual appliance troubleshooting, this is perfect for the DIY appliance repair project. With our help, you will know what to do and what not to do. Often a Do-It-yourselfer will be too confident and take things apart without knowing exactly what they are doing. Modern kitchen appliances are often much more complicated than they look. This is where our Virtual Appliance Repair techs can help you. All you need is a good WiFi connection, a smartphone, and some tools.
Virtual Appliance Repair:
Practically anyone can do their own appliance repair. You do not need any special skills or tools. But you do need to have special knowledge. This is why Virtual Appliance Repair is handy, especially if you want to do your own DYI appliance Repair. We will help you with DIY appliance repair from start to finish. We can help you with DIY refrigerator repair, DIY washer repair, DIY dryer repair, DIY dishwasher repair, DIY stove and range, DIY oven repair, DIY BBQ repair, DIY microwave repair, DIY freezer repair, and much more.
Why Choose Us To Do Virtual Appliance Repair For You?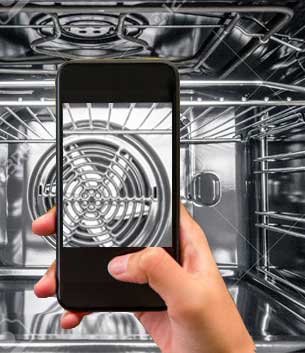 What separates us from other companies is our excellent online appliance repair service. Our technicians are taught to deal with all sorts of problems such as refrigerator repair, washer repair, dryer repair, dishwasher repair, stove and range, oven repair, steam oven repair, microwave repair, freezer repair, ice maker repair, BBQ repair, pizza oven repair, patio heater repair, and much more. They all have extensive hands-on experience working with those appliances. They also know how to work virtually through the smartphone, using the camera.
Our technicians are friendly and helpful. They are also very detail-oriented and tech-savvy when it comes to online appliance repair. No matter how simple or complicated the issue might be, our team will diligently walk you through every step making sure you are doing the right thing. Also, we keep your safety in mind because some appliances might pose a danger when they are tinkered with.
We work with all models and brands of kitchen and laundry appliances. For example, Asko, Bosch, DCS, Electrolux, Fisher & Paykel, Frigidare, GE, LG, Miele, Perlick, Samsung, Siemens, Dacor, KitchenAid, Sub-Zero, Thermador, Traulsen, True, Viking, Whirlpool, Wolf, and many others. If you have a high-end model, a European brand, a very rear classic, or something that just came out on the market, you might be worried whether you can fix it yourself. But in fact, with our help you can for sure.
Contact Online Appliance Repair:
If you need an online appliance repair consultation, fill out our form and book an appointment with us. We will do an online appliance repair session, and one of our techs will help you fix your broken appliance. If you want to learn more about this process, please read our How It Works page. If you have any additional questions, check out our FAQ page. And you can learn more do-it-yourself appliance repair tips and tricks. Instant appliance repair at a reasonable price. Whether it is Alfresco BBQ repair or Bosch dishwasher repair or LG refrigerator repair you can rely on us for all of your appliance needs. Instant appliance repair at a reasonable price with our appliance helps online service.